It's been a big few weeks around here!
For those of you that don't know, my best friend Beth and I created The Northwood Farms Twelve Week Horsemanship Challenge 6 years ago. At the time, we had no idea what it would turn into. To shorten the story up a bunch, it started with the two of us and this year, we have 1775 Official Challengers. It's a simple (but not easy) undertaking and is as follows:
Pick one horse out of your string. ONE. Then in 12 weeks spend a total of 40 horsemanship hours and ride 30 times. (For more details you can read the 2018 FAQ Sheet Here)
As I say, simple, but not easy. Here's the thing though… the reward is nearly priceless.
Over the years, time and time again, the magic that happens between a horse and a human when the Challenge has been completed proves to be truly remarkable. It's the consistency. The steady, unpressured consistency adds up to a relationship and body of education between horse and human that I've rarely seen before. I know what it feels like personally and now I've gotten to see it happen with literally thousands of other horse/human pairs. (I still can't believe I get to say that. How cool!!) The results with our fellow Challengers are still a delightful surprise to me.
This year, I have a new horse. A verrry exciting horse. She's a 6 year old Hanoverian named Daveena. I'm nearly beside myself over her really. She's THE horse. The horse I've been on the lookout for for years and years. She's a beautiful, level headed modern style dressage horse I now own in partnership with Wensleydale Farm.
Finally it's time for the rubber to meet the road. It's time for a big test. With the approval and support of my teacher, I'll get to see what's possible when I take the horsemanship I've chosen and overlay the stylization that I love onto a horse that was bred specifically for the sport of dressage. I'm glad this horse has completely sparkled me because otherwise I might get frozen up with the internal nerves and pressure.
The part I didn't even think to dream of was that she would be started Ray Hunt style under Buck Brannaman's watchful eye. I watched her all that week and I distinctly remember thinking, she's just right, just exactly right. Precisely what I'd been semi consciously preparing for.
Of course she didn't belong to me at all at the time and was way out of my reach…
As I recall it was bleeding hot that summer. Temps were over 105 every day. There is no shade at that Dayton Washington arena either but I recall us all being cheerful and happy the whole week long. (Plus there is nothing like a few days of 108-110 to make you really appreciate a 95 degree day and appreciation seems to always be an effective mood elevator.)
One of those evenings at about 9:30 (it was still at least 100), my friend Dr. Wendy Comstock and I were both checking on our horses and got to chatting. She had recently started a very selective warmblood breeding program at her Wensleydale Farm near me in the Willamette Valley the year before that colt start.
Wendy had bought Daveena as a 2 year old for one of her first Hanovarian broodmares and had wisely decided to have her and another mare named Ruby educated foundationally under Buck's direct supervision. I really respect that because often the broodmares in a breeding program seem to be undervalued to me and I've noticed how nice babies turn out when they are raised by content, confident, educated mares. I was impressed when I saw that Wendy had hired a few of my personal study buddies and brought both fancy horses to the modest Columbia County Fairgrounds.
That night as I topped off the last bucket of water, I mentioned to Wendy how much I admired Daveena and if she ever wanted to talk about partnering on her, I would be all ears. She thanked me, smiled politely and we left it at that.
Fast forward to early May last spring in Corning California. I had grabbed Buck's coffee off the fence and was about to run it out to him when I felt my phone buzz and looked down to a facebook message preview from Dr. Wendy: "Let me know if you want to talk about Daveena."
My mind was racing when I got out to Buck and Swede. "Do you remember that chestnut mare Michael started in Dayton a few years ago?" I asked him. "Yeah", he said as he reached for the coffee.
"Remember her??" I said again rising to my toes for emphasis. "I love that horse!"
"I remember" he said and winked.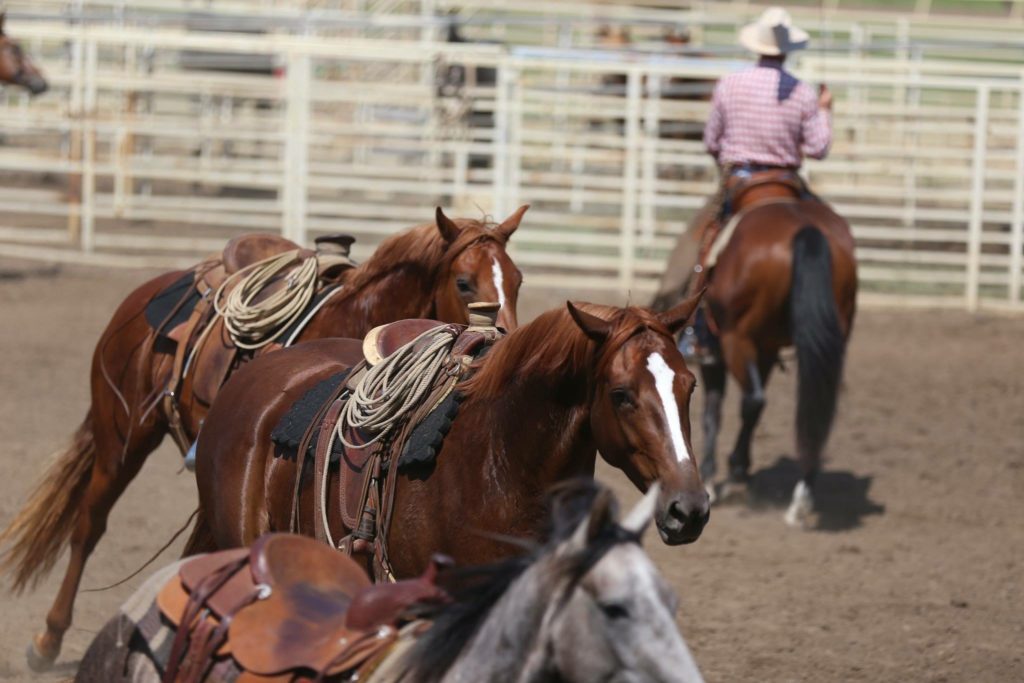 Later at dinner I got to talk out the whole idea of bringing Daveena into my string and really starting to develop a dressage horse using this exact curriculum. I want to do it with no deviations. It's not going to be a hybrid of a bunch of different styles. It's not going to be using what Buck's taught me as a "foundation" then changing the school of aids or suddenly teaching my horse to lean on the bit or anything like that. The only adjustment will be my individual taste of how the gaits are stylized (which I think is a simple matter of rewarding what feels good to me) plus, of course, the addition of piaffe and passage. Now, finally, I'll get to see.
A week after that clinic in Corning, Kip and I met with Dr. Wendy and put Daveena in the trailer. For the rest of last summer she lived at the Northwood Campus with Willow. I had a great time trying her out to make sure I thought the plan would work. I managed for a while to stay detached from the idea of a long term commitment but by the time I moved her home to Northwood Farms HQ, I was convinced she was exactly the right fit.
The week before this years challenge, Wendy and I had the official lunch to ink our partnership with "Daveena Darling" and so now…off we go. She's my 2018 Northwood Farms Horsemanship Challenge horse and the horse that will show me if what I think is possible really is.
I have to note what has been ringing in my mind lately is that never in a million years could I have gotten to this point alone. I couldn't have magically learned all this Horsemanship without some great teachers especially Buck Brannaman. I certainly couldn't have spent the last 6 years travelling to study with him without Kip's unwavering support.
The Horsemanship Challenge would never have been created without Beth and a key group of people believing when it was just a spark of an idea. We couldn't have brought the Northwood Campus Independence to life without Colleen and I surely wouldn't have been brave enough to just keep going amongst the slips and climbs of the last 15 years without all the individual energy of the horselovers in our growing Northwood Farms Community.
I was trying to articulate this feeling to Nathan the other day. I was trying to put into words how amazed and blessed I feel that people have come out of the woodwork just at the right time to make stuff happen.
Nathan's response was perfect and immediate. "It takes a team to do BIG AWESOME things", he said.
He's exactly right. I'm so grateful for all of you. From my keystone partners to the person who just stumbled across this blog, you are all a part of it and I appreciate you!
-Emma Daily Kline
Here's the Northwood Horsemanship VLOG we did about the Challenge and Daveena:
Thanks for reading gang! Remember! I love to hear YOUR thoughts. So please write a comment, connect with me for updates, send me an email or a private message and feel free to share as you like.
Follow me for more and find me everywhere @emmadailykline. My best to you and your ponies!